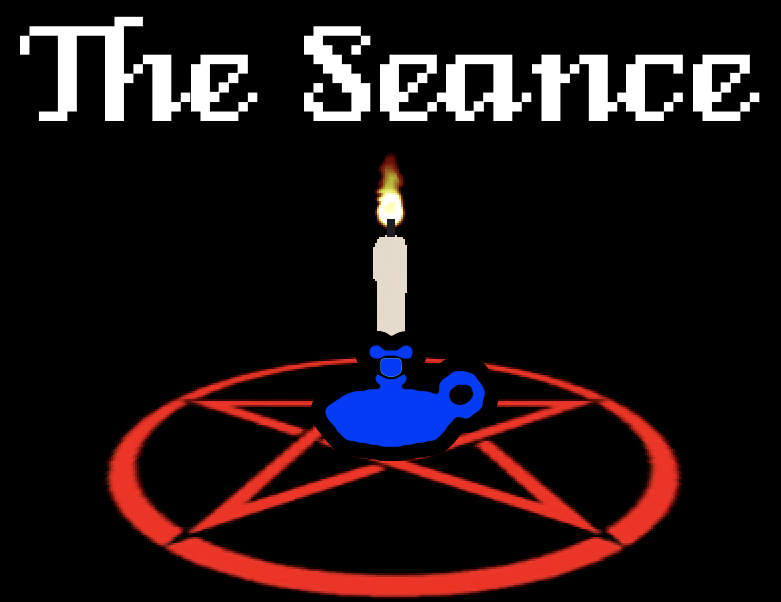 The Seance
So what is 'The Seance'?
The Seance is a spooky text adventure for the ZX Spectrum where you play a Victorian Era widower attempting to contact his dead wife through the famous Medium, Madame Sousa!

You move about by typing in directions (e.g. North, or 'N' for short. You can examine things! Pick things up! Explore!
Also feel free to ask Madame Sousa about things! For example, typing:
Ask Sousa about globe
might give you a clue as to how you can progress!
Good luck! There are four endings to the game, so you can play through a few times if you like!
The story:
Dear brother,
It's been almost a year now, as you know, since I lost my dear, beloved, Emily. The war took its toll on me, and to return in time only to see my beloved wife die after falling ill, I cannot help feel that my heart is forever broken.
Though you will no doubt think it quite mad, over the past few months I have felt her presence here in the house. The attic has become my sanctuary now. It is colder than the rest of the house (even during the summer months) and I cannot help but think that she is trying to send me a message from beyond the grave.

In addition, several objects have mysteriously moved around the house, and I seldom look in the mirror anymore. I see things that aren't there, Robert!
I cannot stay here, Robert. The pain is too much to bear. Arrangements have been made to move to another house in Richmond . A fresh start.
I know you will think this a foolish endeavour, brother, but I simply must try and contact Emily before I leave this house for good. I must tell her how much I miss her and love her still. Moreover, even though I will never forgive myself for not being here for her in her time of need, I want to beg her for her forgiveness.
I do so need her forgiveness, brother. I cannot go on living like this. Often I have contemplated joining her on the other side, but alas I lack the courage.
I will write to you again after the seance has been completed. Please do not worry. The house is largely empty in preparation of the move. It will be just myself and Madame Sousa, the famous medium.
Yours,
Henry Smith
Hello!
Hi there! I originally made this game in 2008 for the PC.
I was able to convert it to retro computers thanks to the wonderful work of the awesome and tireless Evan Wright and his awesome Lantern software:

http://retroteacher.net/lantern/index.html

Also, big thanks to Damien G who makes lovely retro fonts you can find here:
https://damieng.com/typography/zx-origins/

Please check out my other games here why don't you:

Special thanks to those that cheered me on and helped make the game better:
Nikki and Bunty, Mr. Tom, Craig Stevenson, gnomeslair, PsychicParrot, Adrian Warner, Jake May, John Wilson, Planeta Sinclair and Evan Wright!
Stay safe! :)
Purchase
In order to download this Seance you must purchase it at or above the minimum price of £1 GBP. You will get access to the following files:
Seance_normalfont.tap
45 kB
Comments
Log in with itch.io to leave a comment.
Congratulations, This is my first english text adventure and I really enjoyed it,. its atmosphere is perfect.
Again, great game and great story. My old eyes still hate the font though! Loved every second including the tearful ending!
That's so kind, and so precious to get such a reaction from something I made!
I'm currently neck deep in a new game, but I'll see if I can find some time in the next couple of days to add a 'standard' font version for those with, ahem, 'old' eyes!
Thanks again for playing it! Was great fun watching!
QS =D
Hi - Played and solved in about one hour today! Thanks for an interesting storyline and I enjoyed the atmospheric descriptions and solving the puzzles.
I enjoyed this atmospheric text adventure! Short but very well put together. Is it possible to go into the kitchen? I wasn't able to find a key to unlock the kitchen door.
Thank you for playing the game! I ran out of memory on the Speccy so decided to get rid of the kitchen! It now serves only as a red herring!